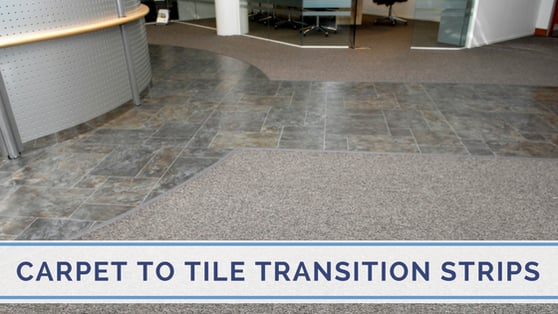 We've already written articles about carpet transition strips and tile transition strips, but what about carpet-to-tile transitions? This is a request we hear all the time from architects who are searching to the best profiles for their designs. There are several specific profiles we recommend in these situations - Gradus' FT27 and CG1042.
We'll get into the details and reasons why in this article.
Carpet-to-Tile Transitions: The Basics
Typically, tile is thicker than carpet, so you will need to create a smooth transition between the surfaces to protect the edges of the flooring and to ensure your design is safe for people and vehicles that will travel over it. These situations require a transition strip to finish off the tile and to bridge or ramp down to the carpet.
You also want to make sure the edges of the tile and carpet are fully protected to prevent chipping or cracks in the tile, or unraveling of the carpet. This isn't just unsightly, but can also turn into a dangerous trip hazard.
Of course, there are situations where the carpet is the thicker flooring surface. Either way, a smooth transition is needed.
You will generally choose between a metal or PVC transition strip for carpet to tile transitions. Here are our top two recommendations.
Clip-Top Transition Strips for Carpet to Tile Flooring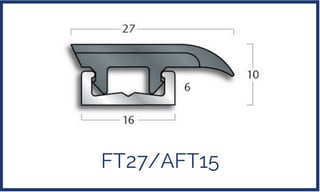 A traditional two-piece clip-top transition strip features a PVC top that clips down into an aluminum base. We recommend the Gradus FT27 top because of its durability and versatility, as it can clip into several different bases depending on the thickness of your carpet and tile. It also comes in six finishes to complement your design.
Once installed, the back end of the FT27 top slants back to butt up to the edge of your tile. The other side comes over the carpet, making the transition smooth and seamless, helping reduce the risk of trips and other accidents. We mostly see the FT27 used in retail and healthcare designs because it can stand up to heavy foot and cart traffic.
You can also choose to have the aluminum base "punched," meaning it would have prongs that stick up to help hold the carpet in place for an extra layer of security.
While the price can vary based on the base selected, this profile generally runs about $5 per foot.
Aluminum Nap Trim for Carpet-to-Tile Flooring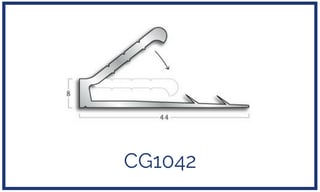 Another option is to use a one-piece nap trim instead of a traditional transition strip. These are typically made of aluminum, so you can adjust the ramp for different thicknesses of carpet.
The back edge of the metal is a straight right angle to butt up against the ceramic tile, and the other side has a strip that is tapped down to secure the carpet. The Gradus CG1042 is a great example of a nap trim profile that works well for tile to carpet transitions.
Like the FT27, prongs are available on this profile to help hold the carpet in place. The price is also comparable, running at about $5 per foot.
No matter which profile you choose, ensure you work with an experienced installer who follows the manufacturer's recommendations so the transition is secure. Please contact one of our product specialists for more information on these trims or how to install them.
Learn More About Transition Strips