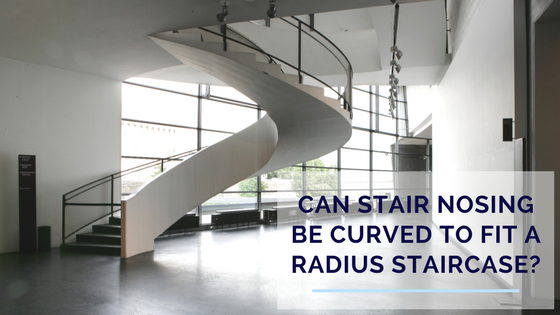 If you're performing a flooring installation for a curved or "radius" staircase, you may have discovered that most stair nosings can't be curved. Also, most of the transitions and trims in the market can't be curved on site. The reason for this is that most flooring accessories are made of a rigid material (metal or hard plastic). This makes curving on site impossible.
One of the many benefits of using our Gradus line of flooring accessories is that they can be curved to fit radius areas. In many theaters, auditoriums, and hotel lobbies, staircases are curved. You will also find areas in retail stores, airports, hotel lobbies, and many other areas, that require a curved transition from one flooring surface to another. We can provide solutions to both of these needs.
How are curved stair nosings fabricated?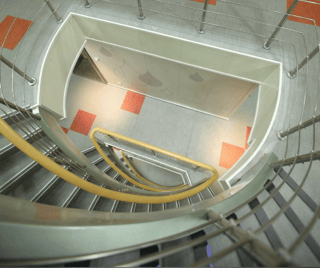 Simply by supplying us with a template of the step, we can custom curve most of the Gradus stair nosing profiles to fit your step perfectly. Your template can be made using butcher paper or any other material that you may have lying around. Once we receive your template, the fabrication shop will make a hard template that will be used to form your stair nosing.
How long does it take to order curved stair nosings?
The entire process, once we have your order, template and credit approval, takesno more than six weeks. We can usually complete the process in less time, but even six weeks is a short time to receive a completely customized stair nosing.
How long does it take to order curved transition strips?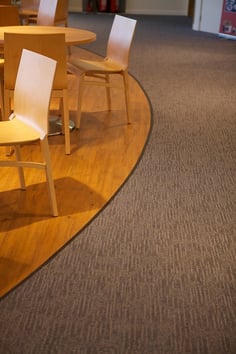 We do offer custom curved transition strips that do not have the same wait time for fabrication as with the radius stair nosings.
Gradus has a line of transition strips that can be curved onsite, without requiring the added wait time as when the product is curved at the factory. If you need a transition between two radius floor surfaces, our Clip-Top fx® profiles could be the perfect solution for you. Clip-Top fx® profiles come in various thicknesses and are designed to join flooring surfaces that are the same height as well as those requiring a ramp down profile.
Final Thoughts
When you encounter a curved flooring installation, you will need specialized flooring accessories that require some degree of customization. If you have more questions about this process or other transition profiles that can be curved using the same process as curving a stair nosing, feel free to let us know.
Learn more about stair nosing