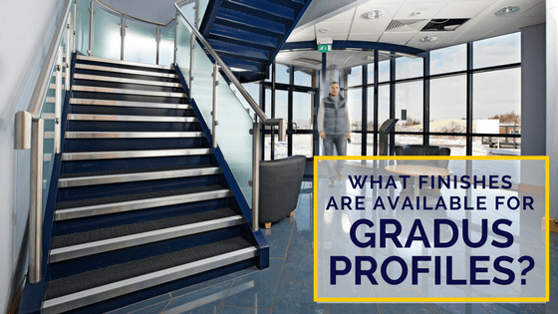 As the official distributor of Gradus profiles in North America, we're able to answer any and all questions about the company's products. One that we hear often is, "What finishes are available for Gradus profiles?"
While it may sound like a simple question, there are many different answers, and each is specific to a particular Gradus product segment. Plus, the answers change all the time since Gradus is always adding new finishes and colors to the product line based on market needs and the ever-growing options for flooring surfaces.
Here's an overview of the different finishes and colors that are available for different Gradus profiles today.
Stair Nosing Colors and Finishing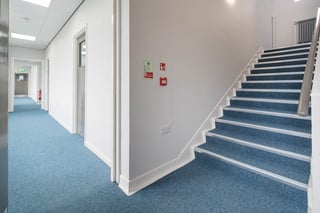 Gradus stair nosing profiles are available in aluminum, bronze, PVC-u (hardnose/hard plastic), flexible PVC (rubber), and chrome.
For a minimum order, aluminum profiles can be anodised to match a sample that you supply. PVC-u profiles come in standard and metallic colors.
Not all shapes and sizes are available in all finishes, but with such a wide range, you should be able to find something that works for you. All stair nosings, except the flexible PVC profiles, incorporate a slip-resistant insert on the tread. While they're there as a safety measure, they can also help coordinate your color scheme.
Colors and Finishing for Lighted Stair Nosings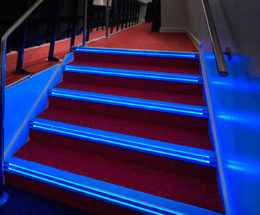 Lighted stair nosings can be purchased in aluminum or PVC-u (hardnose/hard plastic). The PVC-u stair nosing profiles are clear, so they allow light to project through the stair nosing.
Of course, with aluminum profiles, your LED strips would only be visible through the clear tube installed into the stair nosing.
Welded Corner and Trimming Strip Colors and Finishing
Welded corner and trimming strip profiles are available in the same finishes as Gradus' stair nosings. They are used to finish off an exposed edge of a stair on an open ended stringer with a profile that matches the stair nosing.
Colors and Finishing for Transition Strips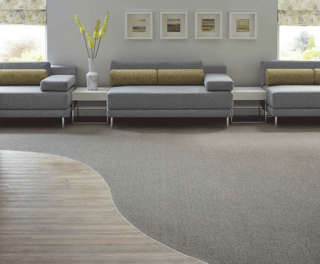 The real diversity of color comes into effect when it comes to transition strips. Gradus has a wide range of types, finishes, colors, and shapes in their transition strip line.
The Luxury Trim System is a brass top with an aluminum base. The brass top can come in polished chrome, satin chrome, brushed stainless steel, pearl nickel, satin nickel, or polished brass. These are top-of-the-line profiles that are used when you want an opulent and eye catching installation.
There are also transition strip profiles made of PVC-u which come in standard shades of mostly black, brown, and gray.
You can also get transition strips made of aluminum that come in mill finished aluminum, polished silver, etched silver, and silver anodized.
If you need a wood grain look, we can accommodate that need, as well. The Euro-Clip System, for example, is an aluminum top and base. The top can be purchased in light oak, dark beech, light beech, pine and maple.
You can also choose the Trans-Edge trims, which are used in the most demanding environments. They are made of aluminum with a slip-resistant PVC insert on the tread. The insert is available in multiple colors.
Specialist Floor Trim Colors and Finishing
Specialist floor trims include cover strips, joint trims, finishing trims, nap trims, multi-purpose trims, feather edges, and ramp edges. Gradus has a nice selection for each of these different profile types. You can find profiles in aluminum, stainless steel, brass, and PVC. Take a look at the catalog pages to see which profiles are available in which colors and finishes.
Colors and Finishings for Skirtings, Capping Strips, and Accessories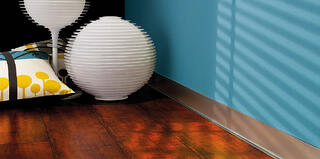 Gradus offers several different types of skirtings. You can find heavy-duty PVC skirting that comes in granite, dove, and snowdrift. These are a cost effective alternative to wood skirtings. PVC skirtings and cappings are available in a wide range of colors and sizes. Please see the color charge in the catalog for details. There is also a range of metal skirtings that come in anodized aluminum.
This is just a start - there are several other types of Gradus flooring accessories and trims that aren't mentioned in this article. With the many different color and finish options, Gradus' high-end line of stair nosing and floor trim profiles can be used in a multitude of different situations, with color selections that will elevate the appearance of any installation.