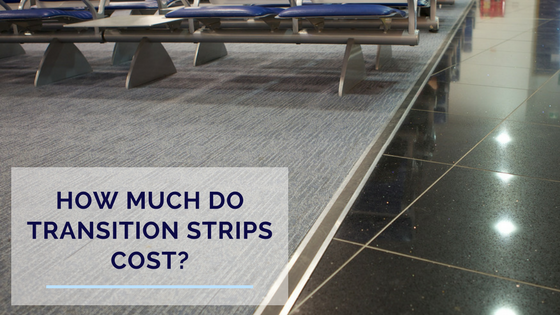 When someone is looking for a transition strip, they could mean any number of things. There are flooring products that are specifically called transition strips, but there are also other types of floor trims that can be used for the same purpose.
Pricing can range from less than $1.00 per sq.ft. to over $30.00 per sq.ft., depending on a range of factors. The biggest variable that impacts pricing is the finish of the transition strip. I'll cover the finishes that we offer in greater detail later in the article. First, I will tackle the basics.
There are several things that you will need to know before you begin your search for the perfect transition strip. The line of Gradus products that we carry come in a multitude of sizes, shapes and finishes.
Of course, there are other manufacturers of similar products that are available on the market.
Even though we focus on Gradus products, this article is designed to give you some general cost guidelines to consider when researching the best product for your project.
Selecting Transition Strips - Key Questions to Answer
There are a few questions that you will need to answer before you start your search:
Do you need a straight transition strip or is there a radius involved?

How thick are the flooring surfaces on each side of the transition?

How wide do you want the transition strip to be?

What is the environment where you will be using the transition strip?

What type of finish do you want?
Straight vs. Radius Transition Strips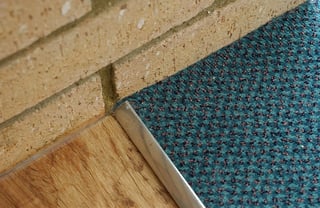 There are many options available for a straight transition strip. You will have the most choices of finish, style, and finish when a radius is not required. However, there are perfectly suitable profiles available that can be curved on site, eliminating the need for expensive custom fabrication.
Most of our Clip-Top transition profiles can be custom curved. But this would require a template of the radius and a slightly extended lead-time for getting your profiles for installation.
Clip-Top fx profiles - Designed with Radius Transitions in Mind
Gradus has a specialty line of transition strips that are designed to be used where a radius is involved. These are our Clip-Top fx profiles.
The Clip-Top fx profiles are comprised of two parts:
PVC base: Can be curved on site (400mm or 15.74in min curve)

PVC top: Can also be curved on site (400mm or 15.74in min curve). The PVC top is available in six neutral colors that will work with most color schemes.
Transition Strips for Varying Flooring Thicknesses
To decide which type of transition strip you should use, you will need to know the thickness of flooring surfaces on both sides of the transition. Some profiles are designed specifically for joining two flooring surfaces that are similar, while others accommodate transitions from a thicker surface to a thinner one. Some even accommodate transition to a concrete or wood floor.
Once you know the thicknesses, you will be able to narrow down your search substantially.
Transition Strips of Varying Widths and Shapes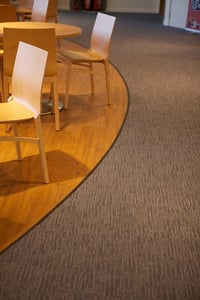 Transition strips and floor trims come in all different widths and shapes. You will want to know how much visibility you want for your transition.
If you want the transition strip to be hardly noticeable, you may want to go with a finishing trim or nap trim instead of an actual transition strip. These are available in several different sizes and can be used in situations where the surfaces are the same and when there is a difference in the thickness of the surface.
Gradus transition strips range in width from under an inch to over 4 ½ inches, depending on what you're looking for.
Transition Strips for Heavy Traffic Areas vs. Lighter Traffic Areas vs. Wet Areas
You can find transition strips for basically any application that you can dream of. We have a line of extremely heavy duty profiles that are called Trans-Edge® Trims.
All of our transition strips are designed for interior use. However, we do have a new line of transition strips that are designed to be incorporated into the resilient flooring in wetrooms and shower rooms in order to contain water and to prevent it from getting into dry areas. These new Wetroom Transition Strips are tested for slip-resistance and made from PVC.
Transition Strip Finishes for Your Installation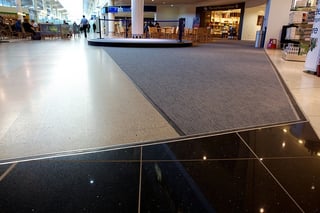 This can often be one of the most important factors involved in selecting your transition strip. If the space calls for a luxurious appearance and you would like to accentuate and compliment the other components of an area, you will want to choose a transition strip that does this for you. Little things like transition strips can be enough to pull a room or look together.
We offer a wide range of finishes, from multiple colors of solid PVC to opulent polished brass. We also have transition strips that come in wood grain finishes, as well as all shades of silver, aluminum, chrome and stainless steel.
To Sum it All Up
Transition strips and floor trims are as varied as the people that look for them. The industry, as a whole, offers so many options for size, shape, finish and materials used in the production of transition strips that your choices are limitless. Once you find the company that can fit your needs, there is no reason that you can't find exactly what you want.
For more information about our Gradus line of flooring accessories, including transition strips, you can download the catalog at the link below.
Learn more About Transition Strips: