Rug Grip® No Curl
™
Rug Grip No Curl helps keep the corners of your rug in place on hard surfaces, reducing tripping hazards and keeping your rugs looking neat. The corner tabs are quick-to-install and releasable for easy removal.
Rug Grip ® No Curl™
Keeping rug corners from curling up is a difficult task. Not only do curled corners create a messy look, they can also cause a dangerous tripping hazard. Rug Grip No Curl, part of our slip resistant product line, is specifically designed to address the corners of rugs on hard surfaces.
Rug Grip No Curl works on almost any size rug to keep the corners flat and secured to the floor underneath. These triangle-shaped adhesive tabs work on almost any hard indoor surface. Not only are the tabs are quick and easy-to-install, but they are also releasable for easy removal.
Rug Grip® No Curl™ is proudly produced in the United States of America.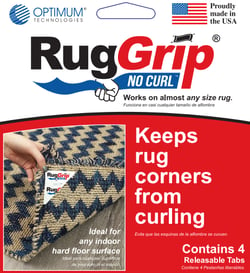 If you are a retailer or distributor and have any questions about Rug Grip® No Curl, please let us know.