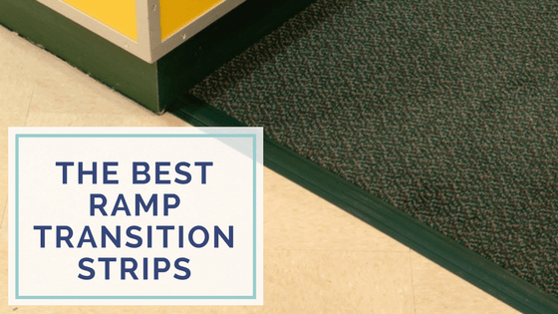 Your first instinct may be that transition strips should be as flat and low as possible to prevent trips and falls, but sometimes a ramp transition is actually the safest choice. But, how do you know when to specify a ramp profile instead of a flat one? We'll cover the basics in this article.
When Do You Need a Ramp Transition Strip?
A ramp is needed when there is a variance in the thickness of two flooring types that meet. If you don't use a transition strip in these situations, there would be an obvious trip hazard.
One of the most common scenarios where a ramp would be used are when transitioning from carpet to a thinner, treated concrete. We see this all the time in schools, when carpeted classrooms transition to a concrete hallway, and shopping malls, when a store is carpeted but the walkways are a treated cement or thin tile.
It is essential for the transition strip to provide a gradual, smooth ramp down from the thicker flooring to the thinner flooring.
Also, ensure the profile chosen is strong enough to stand up to the traffic that will be experienced in the area, or else the profile will wear out quickly and create a trip hazard.
The Best Ramp Transition Strips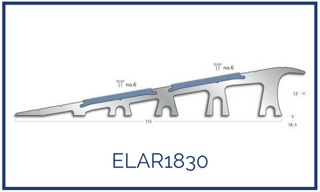 Ramp transition strips are generally made of metal or PVC, depending on the environment and traffic level. They can be a two-part profile or a simple, one-piece metal ramp.
Gradus' Trans-Edge heavy duty transition strips have several ramp profiles to accommodate different thicknesses of flooring, ranging from the ELAR530 for use with 3mm floorcoverings to the ELAR1830 for use with 18.5mm floorcoverings.
These would be great for heavy trafficked areas. They feature a metal base with a slip-resistant PVC insert. The insert can be used to add visual contrast if you choose one in a complementary color, or can be used to add extra slip resistance if you choose an Xtra-Grip insert.
Another metal option is a profile from Gradus' Luxury Trim System. These profiles are designed specifically for LVT flooring, so they would be ideal for designs that feature carpet transitioning down to LVT. These profiles come in 6 metallic finishes that will complement the high-end look of LVT.
If you're looking for a PVC ramp profile, we recommend either the Gradus Clip-Top or Clip-Top fx profiles. These are both excellent options because they are durable and come in a wide variety of colors to match your design.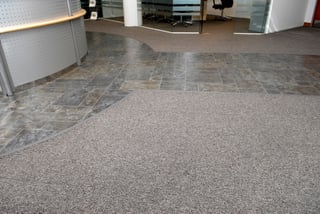 The Clip-Top fx profiles are made of a curvable PVC that can be curved on site. These are typically used in the retail sector, where there are often round carpeted areas.
There is a huge price range for ramp trims because of the different materials used for all of the profiles - it's not just based on whether you've chosen metal or PVC, but the material of the insert, as well.
But, to give you an idea of the possibilities, you can get a simple metal ramp for as low as $3.50 per foot. On the other end of the spectrum, a profile from the Luxury Trim line can run over $30 per foot.
Often, the final decision of the best profile for your project comes down to four main considerations - budget, traffic, environment, and design.
If you'd like some additional guidance on choosing a ramp transition strip or any of our other flooring accessories, please contact one of our product specialists or check out the articles below.
Learn More About Transition Strips