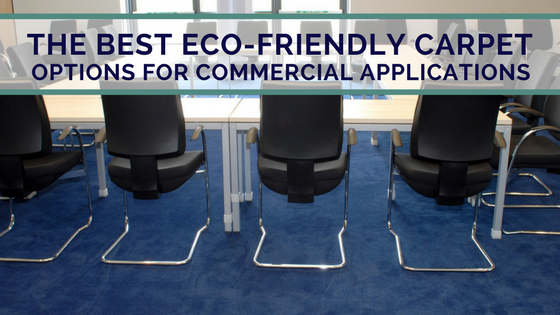 When people think of green flooring options, sustainable hardwood, bamboo, and cork are often some of the first materials that come to mind. Carpet, however, can be a great eco-friendly solution, and choosing the right carpet can even enhance your building's LEED application.
Here's what you need to know to find the best eco-friendly carpet for your commercial application.
How Carpet Can Affect your LEED Application
Planning on applying for LEED certification? Sustainable carpet can add credits toward your application with the U.S. Green Building Council (USGBC), the organization that developed LEED certification and which works to promote sustainable building policies across the country.
Carpeting can play a major role in the overall sustainability of your project. Just think about the amount of your building's surface area that is covered with flooring - it's a huge portion of your project, so, of course, the carpet you choose will have a significant impact on your building's eco-friendliness.
Although the USGBC does not certify building materials, sustainable carpet can add credit to your LEED application if it is made of recycled content, sourced locally, and/or made from low-emitting materials.

Eco-Friendly Carpet Choices
As end users continue to place more emphasis on sustainability, the carpet industry is working to meet demand by developing materials and systems to lessen carpet's environmental impact. Some companies, for example, have worked to create new earth-friendly options like carpets that are 100% recyclable.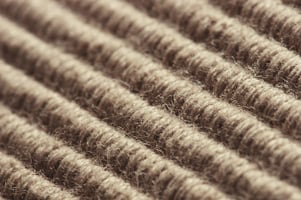 When searching for the most earth-friendly carpet to specify, look for options that are made of natural fibers like wool, jute, and cotton, or ones made of recycled materials.
Consider the environmental impact the carpet in its entirety, because LEED applications consider the carpet as a whole, not just the material of the fibers. Ensure that pieces like the backing systems and cushioning are also recyclable and low-emitting.
Carpet tiles are another sustainable option to consider. While they require more materials at the outset because of their thick backing, they are generally considered more earth-friendly than wall-to-wall carpet.
Why? There are two main reasons. First, carpet tiles don't require as much trimming during installation, so they create less waste. Further, in the case of stains, rips, or other damage, a single tile can easily be replaced, causing minimal waste. If there's damage to wall-to-wall carpet, the entire carpet would need to be ripped up, disposed of, and reinstalled, creating significantly more waste not just in terms of the carpet, but also the adhesive system used to install it.
How to Find Low-Emitting Carpet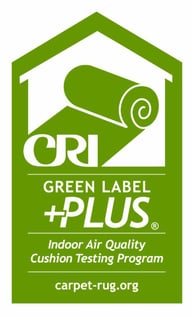 The best resource for finding low-emitting carpet is the the Carpet and Rug Institute's (CRI) Green Label Plus. The CRI developed the Green Label Plus designation so architects and builders can be sure that the products they specify meet or exceed the industry's most rigorous criteria for low VOC emissions.
Carpets earn the Green Label Plus certification after testing done in partnership with the Environmental Protection Agency (EPA) and the American Society for Testing and Materials (ASTM). If your carpet has the Green Label Plus designation, it can likely contribute credit toward your building's LEED certification.
You can find Green Label Plus certified carpets here.
How to Dispose of Old Carpet
Are you replacing an older carpet with new, more sustainable carpet? Consider recycling the unwanted carpet instead of sending it out to the trash.
It can be difficult to find a recycling center with the capacity to recycle a huge item like commercial carpet. If you're having trouble finding one, check out this database from Carpet America Recovery Effort, a non-profit committed to promoting the recycling of carpet.
Healthy Carpet Installation Methods
Chemical-based wet glues emit harmful VOCs that can pollute the air and cause serious health effects to those exposed to them.
Instead, consider a pressure-sensitive dry adhesive, or, if using carpet tiles, tile connectors. Both of these can add credit to your LEED application because of their low emissions and, depending on your location, possibly for using locally-sourced materials.
Commercial
Lok-LiftⓇ
Dry Adhesive for Carpet Installation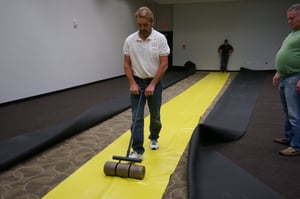 A pressure-sensitive dry adhesive, like Lok-LiftⓇ, can be used to install carpet over any clean, dry, secure flooring surface (concrete, wood, other carpet, etc.).
Lok-LiftⓇ is ideal for projects in hospitals, schools, elderly homes, and other buildings with heavy traffic and sensitive populations because of its durability and low emissions.
Using a pressure-sensitive dry adhesive can help save time during construction because it won't require any downtime - there's no curing time or off-gassing period (time required to let the VOCs vent out of the room, typically 72 hours) like those required with wet glue carpet installations.
Once carpet installation with Lok-LiftⓇ is complete, the floor is ready for immediate use. In fact, the pressure from foot traffic actually strengthens the bond between the carpet and the surface beneath.
Additionally, Lok-LiftⓇ is releasable, making it much easier to remove and recycle older carpet when the time comes for renovation or redecorating.
Tile Connectors for Carpet Tile Installations
Tile connectors are the perfect green choice if you've specified carpet tiles. With almost zero VOCs or emissions and a miniscule environmental footprint, tile connectors are a very earth-friendly installation method.
Specify a dry adhesive or tile connector that has the CRI Green Label Plus designation (like Mohawk's FlexLok® or Masland's TAB LOCK) or one that's passed the even more stringent CA 01350 testing for emissions (like Lok-LiftⓇ) to ensure you're selecting the highest-rated eco-friendly adhesives.
The carpet and installation products you specify can play a significant role in your building's LEED application and its overall sustainability, so make sure you consider all the factors to ensure you're making the greenest choice.
If you have any additional questions about green carpet and installation methods, please don't hesitate to contact us.
Additional Resources