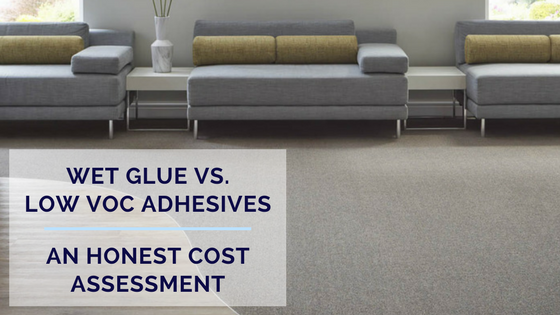 As customers become more concerned with health and sustainability, low VOC adhesives are becoming more popular for carpet installations. We're often asked to break down the cost differences between traditional adhesives and lower VOC options to help our customers strike a balance between their eco-friendly ideals and clients' budgets.
While every project is unique, here are some general guidelines you can use to specify the best adhesive for your project while staying within budget.
How Much Does it Cost to Install Carpet with Wet Glue?
Wet glue has been the traditional adhesive used for carpet installations because of its durability and very low price point - typically just 8¢ or 9¢ per square foot.
Keep in mind, however, that time is money. While wet glue has a low upfront cost, it requires significant setup, curing, and off-gassing times before the room can be used.
The off-gassing time is necessary to help eliminate some of the VOCs that are emitted from the glue. VOCs, or volatile organic compounds, are gases that are emitted from certain materials that affect air quality and, therefore, the health of people exposed to them. They can be found in a variety of products that may be used in an architectural project, like paint and paint strippers, wood preservatives, building materials, and adhesives.
The VOCs associated with heavy-duty strength wet glues can cause serious health risks, including:
Irritation of the eyes, nose, and/or throat

Headaches and loss of coordination

Nausea

Damage to the liver, kidneys, and/or central nervous system
As with any pollutant, exposure to VOCs doesn't necessarily mean you will experience the symptoms listed above. While effects will vary by person, and the length and level of his or her exposure, they are undoubtedly unhealthy, both for us and for the environment.
How Much Does it Cost to Install Carpet with Lok-LiftⓇ?
As a pressure-sensitive dry adhesive system, Lok-LiftⓇ comes in at a higher price point than wet glue - approximately 33¢ per square foot.
While it's more expensive than wet glue, there are other factors to keep in mind.
First, consider the overall time it will take to complete your project. Lok-LiftⓇ doesn't require setup, curing, or off-gassing times, so the installation can be completed quickly and is then ready for immediate use.
Secondly, Lok-LiftⓇ has passed the stringent CA 01350 testing for emissions. It is a green, healthy installation method that won't emit hazardous VOCs like wet glue. This is particularly important during installations in buildings with sensitive populations like schools, hospitals, elderly homes, etc.
Lok-LiftⓇ can be used to install carpet over any clean, dry, secure flooring surface, like concrete, wood, and carpet, and is as durable as wet glue.
How Much Does it Cost to Install Carpet Tiles with Tile Connectors?
If you've specified carpet tiles instead of wall-to-wall carpet, you may want to consider tile connectors. Typically, tile connectors cost about 15¢ each and come in rolls of 500 connectors. One roll of connectors can install up to 1125 square feet of carpet tiles, making the cost around 33¢ per square foot, just like Lok-Lift.
With almost zero VOC emissions and a very small environmental footprint, tile connectors are a very earth-friendly, healthy installation method.
Ensure you're choosing the greenest option by specifying a tile connector that has earned the CRI Green Label Plus designation (like Mohawk's FlexLok® or Masland's TAB LOCK).
Budget is always a concern, so it's important you specify products that will work within your clients' means. But, it's important to remember that there's more to cost than money - time and health are also critical considerations that add up to a project's overall cost.
Please don't hesitate to contact us with any questions on specifying for green carpet installation methods.
Additional Resources