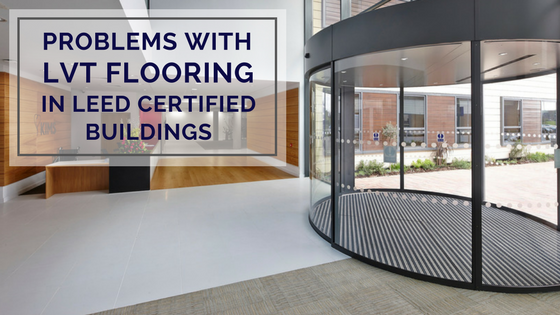 Over the past several years, we've noticed a significant increase in architects specifying LVT flooring. We get it - luxury vinyl tile looks great and is durable, easy to install, and often a cost-effective choice.
But, as sustainability becomes a greater focus, it's come to light that LVT isn't a particularly green flooring option, which can prove to be a problem when applying for LEED certification. Luckily, there are steps you can take to alleviate the negative environmental impact of LVT flooring to make your project more eco-friendly. We will address those a mid-way through this article.
The Environmental Problems with Vinyl Flooring
Vinyl is one of the most popular flooring materials in the United States, where an estimated 14 billion pounds of vinyl flooring are manufactured annually. According to Floor Covering News, LVT accounts for approximately 33.6% of this figure.
Despite its mass production, there are some concerns with the material, particularly during the LEED application process.
Toxins Created During LVT Production
LVT's primary environmental issues come from the PVC that's used to make it.
When PVC is manufactured, toxins including dioxins, vinyl chloride, and ethylene dichloride are created. These are harmful to both the environment and the people exposed to them. Your flooring needs to be low-emitting to potentially qualify for LEED credit, so LVT will not earn you points here.
The EPA has taken steps to reduce the production of these toxins, so today's products produce far fewer toxins than older ones. But, they still remain a hazard because the toxins take so long to break down. In fact, most of the dioxins found in the U.S. today were produced decades ago.
Other Problems with LVT
One of the main materials used to create vinyl flooring is petroleum, which is a nonrenewable resource. Often, the petroleum is coming from outside the U.S., traveling for thousands of miles and therefore creating additional waste and air pollution.
Further, most vinyl is not biodegradable, meaning it will not decompose naturally when sent to a landfill. Millions of pounds of LVT are thrown away annually, so the amount of vinyl waste is increasing year after year.
How to Mitigate the Environmental Challenges of LVT
Despite the qualities listed above, LVT remains one of the most popular flooring choices today for both commercial and residential applications.
It's not surprising given its qualities including:
Durability

Low maintenance requirements

Water-resistance

Huge variety of design options

Cost-effectiveness

Ease of installation
So, what can you do to minimize the environmental impact if you do choose to specify LVT?
Green LVT Installation Methods
The first step you can take is to install LVT in the most eco-friendly way possible. The wet glues traditionally used to install flooring are chemical-based and emit harmful VOCs, so they is definitely not the way to go if you are trying to be environmentally conscious.
Instead, your installation crew should use a pressure-sensitive dry adhesive, like Lok-LiftⓇ, or tile connectors, like Mohawk's FlexLok®.
Pressure-sensitive adhesives can be used to install LVT on any clean, dry, secure flooring surface, including concrete, wood, and carpet. They are often used for installations in buildings with heavy traffic and sensitive populations, like hospitals and schools, because of their strength and very low emissions.
Tile connectors are another great option for green LVT flooring installation. With minimal VOCs or emissions and a miniscule environmental footprint, tile connectors are a far more earth-friendly choice than wet glues.
Ensure you're specifying the greenest options by choosing dry adhesives that have passed either the CRI Green Label Plus testing, or the even more stringent CA 01350 testing for emissions (Lok-LiftⓇ has passed CA 01350). Adhesives that have passed these tests can potentially earn you LEED credit.
Recycling Luxury Vinyl Tile Flooring
Many vinyl materials can not be recycled because of their complicated chemical compositions. However, the industry is stepping up and creating programs to help you recycle your old, unwanted LVT.
One option is Armstrong Flooring's On&On™ Recycling Program, where Armstrong takes your old flooring and recycles it into new products. Another is The Vinyl Institute, which has a directory of recycling centers across North America that will accept vinyl products.
While LVT is not the greenest flooring material, there are steps you can take to significantly lessen its environmental impact. Keep an eye out for even more earth-friendly solutions as the industry continues to adjust to meet demand for sustainable flooring options.
Additional Resources