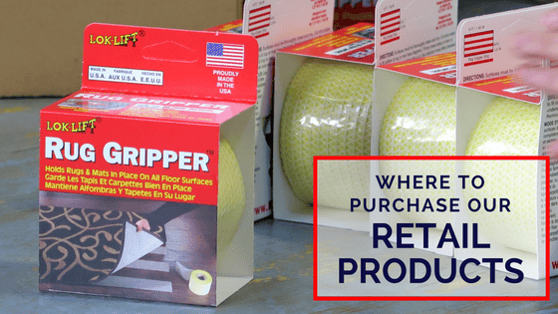 Thank you for interest in our retail products.

Our most popular product, Rug Gripper™, can be found at many major retailers. A more detailed list of retailers can be found in this article.

Stay 'n' Place® can be purchased at Bed Bath & Beyond, Target, Meijers, Ace Hardware, True Value, Do It Best, Menards, Garden Ridge, At Home, and through the Starcrest catalogue.

Grip-A-Rug™ is available for purchase through Ace Hardware, Starcrest, Home Depot under the name Traction Tape, and Lowes under the name Great Tape.

Opti-Grip® is sold at Ace Hardware and Do It Best. Opti-Grip is also available for purchase at Home Depot under the name Max Grip.

Ball Claw™ can be found at Ace Hardware, Do It Best, and online at Target. Ball Claw can also be ordered through the following catalogues: Organize It, Solutions, Meta Retail, SCS Direct, and Etailz.

Additionally, all of the above products can be purchased online from Amazon.

Kanga Tape® can be found at Menards.

Want to purchase one of our retail products outside of the USA? Check out the below articles for international purchase options or contact us directly for assistance.