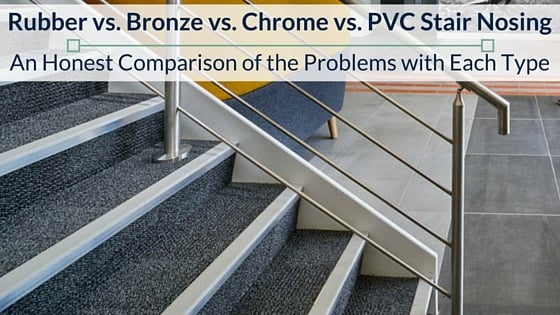 Here at Optimum Technologies, we receive hundreds of questions per year about which stair nosing profile is right for our customers' projects. Often, what our customers really want to know is what kinds of problems they can anticipate down the road with the product. After all, the last thing architects and installers want is a callback. For facilities managers, the last thing you want is one more thing to fix or replace.Whether you are considering an inexpensive rubber nosing or a high-end bronze nosing, my goal is to provide you with an honest comparison of problems you might encounter with each. I have worked in the flooring industry for over 30 years, and will share some of the experiences that I've had when working with these products.
Rubber Stair Nosing Problems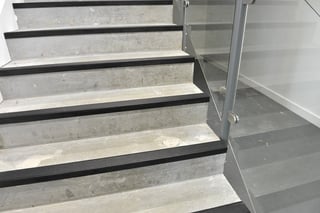 The main issue with rubber stair nosing is appearance. Though this is subjective, many feel that it is just not attractive. Although serviceable for a particular market, rubber stair nosing does not have a very commercial look. If you just want basic, "no-frills" coverage of the edge of your step, however, rubber stair nosing will work just fine.
In addition to its basic appearance, rubber stair nosing is not the best solution for carpeted steps because standard rubber stair nosing is not very thick. Since the first place for carpet to wear is on the edge of the step, you want a nosing that will butt up to the carpet, protecting the edge of the carpet as well as the stair. It would be better to use a metal or thicker rigid PVC stair nosing if you have carpet on the tread portion of the steps.
Bronze Stair Nosing Problems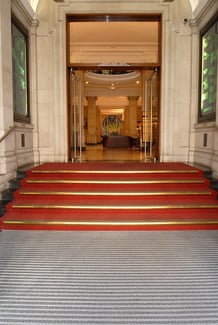 Bronze stair nosing is available in two types of profiles - bronze plated and solid bronze nosing profiles. As you can imagine, solid bronze costs more than plated bronze. While I wouldn't actually call it a problem, the premium price associated with solid bronze profiles is a drawback.
Now, you can save money by purchasing a bronze plated profile instead. However, the problem with bronze plated nosing is you may incur additional maintenance costs down the line when wear and tear causes the plating to scratch off.
The bottom line is that if you prefer a bronze stair nosing, I recommend going all the way and ordering a solid bronze profile. With the higher quality product, you can eliminate the problem of a scratched surface coating, which often results in longer term maintenance and replacement costs.
PVC Stair Nosing Problems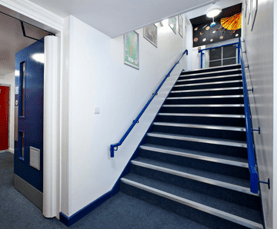 Rigid PVC stair nosing is a good choice for a lot of applications. It is available in a wide variety of colors, sizes, and shapes, and can be used in most situations.
For an outdoor installation, however, I recommend steering away from PVC stair nosing profiles. In many cases, the challenge with PVC nosing used outdoors is that the sunlight often causes the color to fade, quickly resulting in an old and worn look.
Chrome Stair Nosing Problems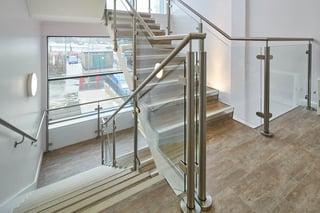 When using a chrome stair nosing, you will want to take into consideration your traffic level. Most chrome profiles are suggesting for light to medium traffic. If you have an area that will require heavy traffic, you might want to consider using an aluminum profile instead. The chrome finish could be scratched off of the stair nosing, causing it to look old and worn.
Chrome profiles are also typically for indoor applications only for the same reason (higher likelihood of scratches), whereas bronze or aluminum profiles can be used for either interior or exterior projects.
Aluminum Stair Nosing Problems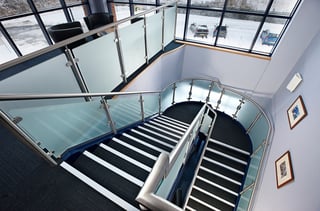 An aluminum stair nosing is very versatile and can be used in most situations. It comes in a variety of sizes and shapes that will accommodate most stair projects. An aluminum profile, when wet, could present a slip hazard.
Consider the environment where the profile will be used to determine if an aluminum nosing will work. If you need it it to be slip resistant, consider a profile with a slip resistant PVC channel on the tread portion. If the area can get wet either because of the indoor environment or if foot traffic will be coming directly from the outside, you will definitely want to avoid aluminum stair nosing profiles.
In this case, I recommend using PVC strips, which are available specifically for wet or exterior installations.
I hope this article provided you with some insight into the issues you might encounter with each type of nosing, so that you are at least prepared when making the decision about which product to buy.
Learn more about stair nosing