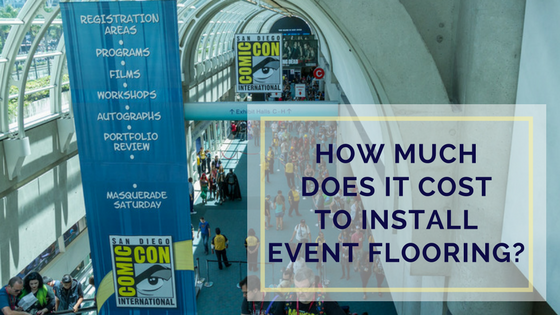 Budget is almost always a concern when you're installing event flooring for a client. Say you're installing for a trade show. Your customer will already be paying to rent display and flooring materials, for employee travel and accommodations, and for additional miscellaneous costs that arise throughout the event. You can help them budget properly by sharing the cost of different installation methods up front.
Double-Sided Tape is the Least Expensive Option, but...
Double-sided tape is almost always the least expensive way to install event flooring, costing as low as $2.50 for a 75-foot roll. Total cost includes more than the adhesive, however the cost of labor and the time required to complete the project also play a role.
While initial installation is simple, double-sided tape can be difficult to dismantle so it can lead to unexpected additional labor costs once the event is over.
Double-sided tape is certainly a cost-effective option, but it's not right for all types of event flooring. It's just applied to the perimeter of the flooring or as a grid, so it's not good for flooring that requires a full coverage adhesive like vinyl.
The Cost of Wet Glue and Plywood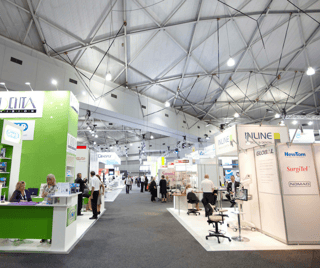 Another method of installing event flooring is installing a base layer, like plywood, over the floor, then gluing carpet on top of the plywood. The adhesive itself costs between 8 and 9 cents per square foot, but requires significant additional costs.
This method of installation requires long hours of labor to set up and tear down, the purchase of plywood, and the long curing and gassing times (not to mention the odors that could linger) required with all wet glue installations, increasing the overall cost significantly.
The Cost of Lok-Lift Dry Adhesive for Event Flooring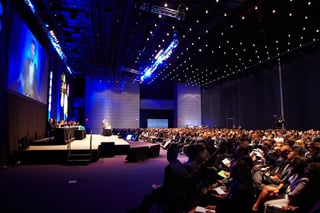 Lok-Lift dry adhesive is costs more than wet glue when you look at product costs alone at 33 cents per square foot. However, the savings in overall time and labor often lead to lower or equivalent overall costs.
Installation is quick - Lok-Lift is applied directly to the venue's flooring, then the event flooring is installed on top. Once the event flooring is installed, it's ready for immediate foot traffic. In fact, as a pressure-sensitive adhesive, the foot traffic actually strengthens the bond to the floor below. This more than makes up for the higher initial costs.
This installation method drastically cuts labor costs, plus there is no need to purchase additional materials like plywood. According to one of our customers, "You're saving 66% of the time, you're saving labor, you're saving materials. It's a no-brainer."
Of course, every situation and every customer's budget is different. Sometimes, the least expensive option is perfect, and sometimes the most expensive option is most appropriate. If you have an event flooring installation coming up and would like to discuss your options with us, please contact one of our product specialists.
Learn More: