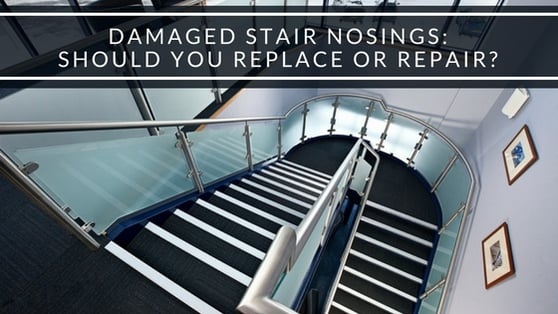 We've seen it many times throughout our years in the flooring business - the stair nosing that was installed have experienced so much traffic and have become damaged. Naturally, the first question we often hear is whether the stair nosing can be repaired or whether you will have to replace the whole profile.
The answer depends on several different factors that we'll go over below.
Scratched Stair Nosings
If your scratched stair nosings are made of metal, they can often be repaired. Scratches can often be brushed or buffed out as long as the piece is solid metal (like aluminum, bronze, or stainless steel) and the profile does not have a finish. For example, if the metal profile is anodized (plated), you will be unable to repair the scratch because buffing or brushing could remove the finish. For that reason, a plated stair nosing with scratches would most likely need to be replaced.
Just as with plated nosing, Rubber or PVC stair nosing with scratches cannot be repaired either. Similar to the anodized profiles, buffing or brushing will just create more marks on the profile.
When anodized, rubber, or PVC stair nosings are scratched, they do need to be replaced.
Cracks or Breaks in Rubber or PVC Stair Nosing Profiles
Unfortunately, when a rubber or PVC stair nosing becomes cracked or a piece of the profile breaks off, the stair nosing must be replaced.
Any compromise in the integrity of the profile could result in a dangerous situation, such as causing a trip hazard or having someone get injured on the broken part of the stair nosing.
Are Dented Stair Nosings Dangerous?
Most often, a dent in your stair nosing is not dangerous. Although it will take away from the beauty of the staircase, a dent more than likely has no impact on the nosing's ability to protect the stair edge. The only reason to replace a dented stair nosing is really for aesthetic purposes.
Gradus Stair Nosing Profiles
At Optimum, we have chosen to distribute Gradus stair nosings and related accessories simply because of their superior quality.
Gradus stair nosings are known for their durability and range of options designed to fit many different project types. If you have any questions or would like to consider Gradus profiles for a long lasting, high quality stair nosing, let us know.
Related articles: